Andrew Bibby is a professional writer and journalist, working as an independent consultant for a number of international and national organisations, and as a regular contributor to British national newspapers and magazines. He is also the author of a number of books.
Copyright notice
Copyright held by Andrew Bibby. Use for commercial purposes prohibited without prior written permission from the copyright holder. This text has been placed here as a facility for Internet users and downloading is permitted for the purposes of private, non -commercial research. The text must not be modified, nor this copyright notice removed.
Trade unions and Telework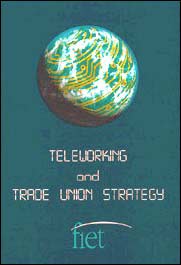 Report produced for the International Trade Secretariat FIET, Autumn 1996
1: Introduction
3: Back offices and Call Centres
4: Relocation of work internationally
5: Trade union responses to teleworking
Full report (PDF)
Return to my home page.